Thursday 7/13/2023 8:35 AM : The Producer Price Index, which measures wholesale inflation, was reported for the month of June. The Headline PPI figure was up 0.1%, which was below expectations of 0.2%. On a year over year basis PPI decreased by 0.8% to 0.1%, which was lower than the 0.4% estimate,. Core PPI, which strips out food and energy prices, increased by 0.1%, which was below expectations of 0.2%, and decreased by 0.4% to 2.4% year over year, which was below the 2.6% estimate.
9:46 AM Reaction - Mortgage Bonds on 5.5% coupon are up 41 bp to 100.02 (Price Higher Yield Lower) 10 year Treasury is down 7 bp in yield to 3.7950%.
Wednesday 7/12/2023 8:33 AM: The CPI was reported at 0.2%, which was below expectations of 0.3% and decreased by 1% to 3% year over year, which was lower than the 3.1% estimate. The Core CPI Rate, which strips out food and energy prices, increased by 0.2% for June, which was below expectations of 0.3%, and decreased by 0.5% to 4.8% year over year, which was lower than estimates of 5%.
8:58 AM Reaction - Mortgage Bonds on the 5.5% rate are up 41 bp to 99.27 (Price up Yields down), and the 10 year is yielding 3.9190% down 6 bp.
Monday July 10th, 2023 Bond market is starting the week with the 10 year lower by 4 bp to 4.018% and Mortgage Bonds improving up 28 bps (Price Higher Yields Lower)
What to Look for This Week
Crucial inflation reports are ahead, starting with June's Consumer Price Index on Wednesday. Look for the Producer Price Index on Thursday, which will give us news on wholesale inflation.
Also of note, Tuesday will bring an update on housing appreciation data via CoreLogic's Home Price Index for May. The NFIB will also release June's report on confidence among small business owners. The latest Jobless Claims will be reported as usual on Thursday.
Investors will also be closely watching Wednesday's 10-year Note and Thursday's 30-year Bond auctions for the level of demand.
Last Week of July 3-7, 2023 in Review
After the Independence Day fireworks, labor sector reports added some sparks to the markets. Plus, the minutes from the Fed's latest meeting revealed what might be in store for rate hikes. Read on for these stories and more:
-Job Numbers Powered by Part-time Workers
-What Caused the Surge in June's Private Payrolls?
-What Unemployment Claims Suggest
-Are More Rate Hikes Ahead?
Job Numbers Powered by Part-time Workers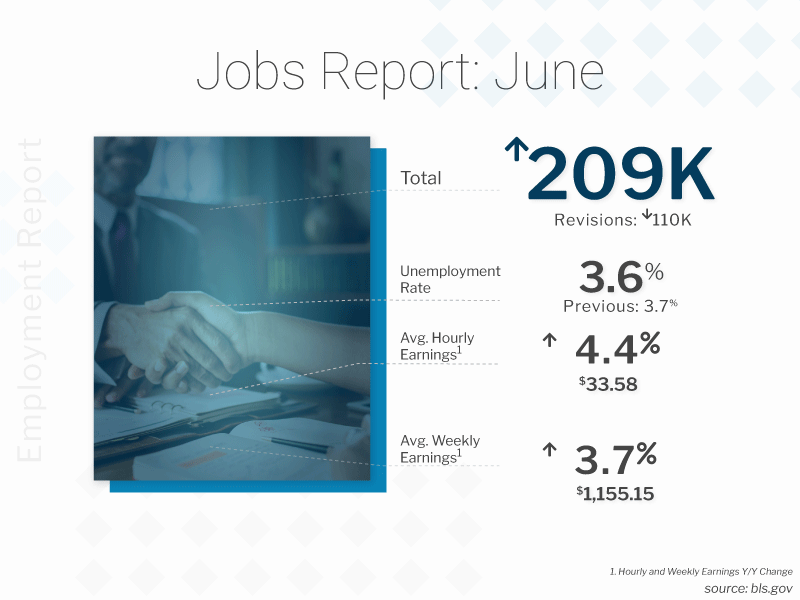 The Bureau of Labor Statistics (BLS) reported that there were 209,000 jobs created in June, which was weaker than estimates of 240,000. Job growth in April and May was also revised lower, subtracting 110,000 jobs in those months combined. The unemployment rate declined slightly from 3.7% to 3.6%, though it's still above April's reading of 3.4%.
What's the bottom line? There are two reports within the Jobs Report and there is a fundamental difference between them. The Business Survey is where the headline job number comes from, and it's based predominately on modeling and estimations. The Household Survey, where the Unemployment Rate comes from, is considered more real-time because it's derived by calling households to see if they are employed.
The Household Survey has its own job creation component, and it showed that there were 273,000 job creations in June. However, jobs are still running negative in this survey over the last two months, as May's data showed 310,000 job losses. June's report also showed sizeable increases in multiple job holders, people working part-time for economic reasons, and people who could only find part-time work, suggesting some underlying weakness in the job market and economy overall.
What Caused the Surge in June's Private Payrolls?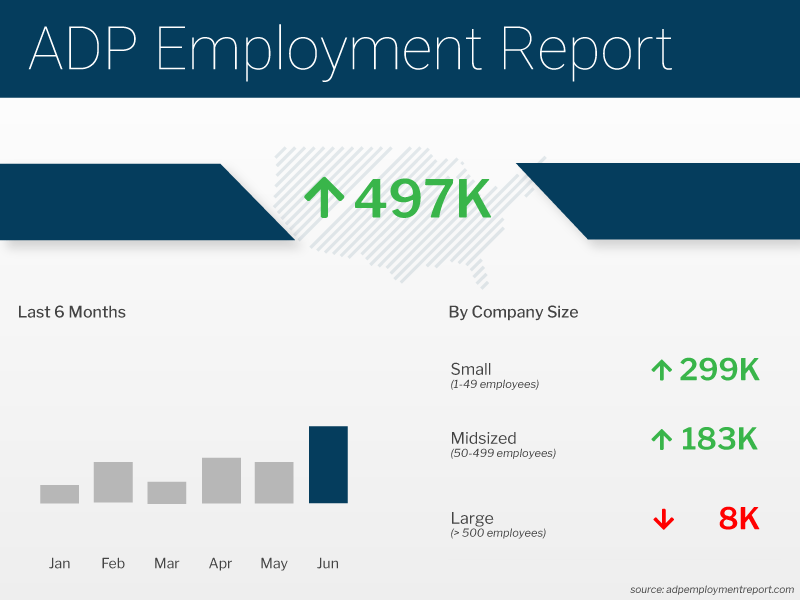 Private payrolls were much stronger than expected last month, as the ADP Employment Report showed that there were 497,000 jobs created in June. Annual pay for job stayers increased 6.4% and job changers saw an average increase of 11.2%. While these pay gains are still high, they have been declining over the last year.
Leisure and hospitality once again led the way with 232,000 job gains, which was more than double the growth reported in any other industry sector. Construction followed with 97,000 new jobs, reflecting the growing confidence among home builders as they've ramped up production to meet buyer demand.
What's the bottom line? The high level of leisure and hospitality job gains may not continue to bolster the overall private payroll total for much longer. We have now eclipsed pre-Covid levels with 16.7 million employees in this sector versus 16.2 million in April 2019. Plus, the BLS Jobs Report only showed 21,000 leisure and hospitality job gains in June, while the latest Job Openings and Labor Turnover (JOLTS) report showed a sizable drop (108,000) in leisure and hospitality job openings. The data combined suggests softer job growth in this area to come.
Nela Richardson, chief economist for ADP, added, "Consumer-facing service industries had a strong June, aligning to push job creation higher than expected. But wage growth continues to ebb in these same industries, and hiring likely is cresting after a late-cycle surge."
What Unemployment Claims Suggest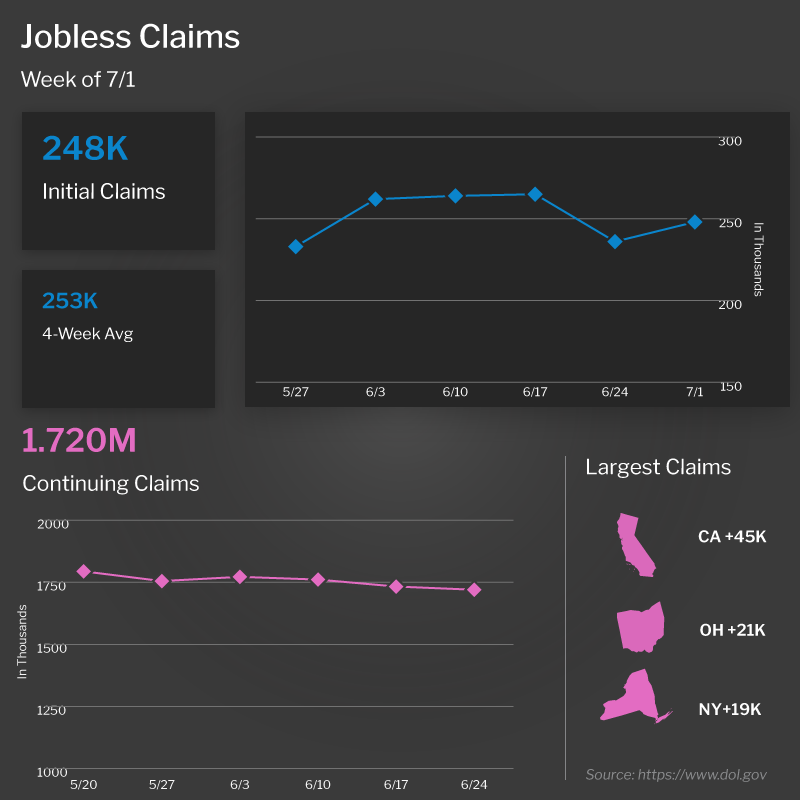 Initial Jobless Claims rose 12,000 in the latest week, with 248,000 people filing for unemployment benefits for the first time. Note that this increase was likely due in part to understated initial claims in the previous week, which had a shortened filing time due to the Juneteenth holiday.
Meanwhile, Continuing Claims declined by 13,000, with 1.72 million people still receiving benefits after filing their initial claim. While this metric is well above the low of 1.289 million seen last September, it has been steadily declining since April and is now at its lowest level since February. Based on the job growth numbers from ADP, this decline could be partly attributed to people finding new employment, and partly due to benefits expiring.
Are More Rate Hikes Ahead?
The minutes from the Fed's June meeting showed that the Fed is planning additional hikes to their benchmark Fed Funds Rate this year. This is the interest rate for overnight borrowing for banks and it is not the same as mortgage rates. When the Fed hikes the Fed Funds Rate, they are trying to slow the economy and curb inflation.
The minutes also showed that members decided against a hike at their meeting in June, citing concerns over economic growth, so they could have more time to assess incoming data. However, some participants indicated that they favored a 25-basis point hike last month.
What's the bottom line? Interestingly, the Fed wants to continue hiking even though inflation is coming down and their base case is still for a mild recession later this year. If they believe we are going to enter a recession, do they really need to continue hiking the Fed Funds Rate?
Family Hack of the Week
Grilled fruit makes for a healthy and delicious summertime dessert. These tips from our friends at Spruce Eats are perfect for peaches and other stone fruit.
Heat grill to medium high. Rinse and dry peaches, and then cut them in half and remove the pits. Next, place the peaches on a baking tray and brush with oil or melted butter. Once your grill is hot, place peaches cut-side down, cover and cook for about 5 minutes until heated through.
This recipe works equally well with plums or nectarines. You can also brush the fruit with honey as you're grilling it.
Serve with a sprinkle of cinnamon and a generous scoop of your favorite vanilla ice cream.
Technical Picture
Mortgage Bonds ended last week trading in a wide range, with support at 97.563 and overhead resistance at 98.716. The 10-year tested the 4.066% ceiling of resistance last Friday for the second day in a row, which is holding for now. If yields are rejected lower, there is a lot of room for improvement before the next level of support at the 3.908% Fibonacci level.