Thursday June 22, 2023
9:36 AM ET Mortgage Bonds are down 17 bp to a price of 99.95 (Price Down Yield Up) 10 Year Treasury is up 4 bp to 3.7620%.
8:37 AM ET: Initial Jobless Claims, which measures individuals filing for unemployment benefits for the first time, was reported at 264,000 claims for last week. This figure was unchanged from the previous revised report, and was above expectations of 260,000. Continuing Claims decreased by 13,000 to 1.759 Million claims, which was below the 1.782 Million estimate.
Jun 20, 2023 Tuesday
10 Year Treasury closed at 3.721%
In the United Kingdom of Great Britian(UK) inflation is hurting the bond market today. Their core inflation came is at 7.1% the highest in 31 years. This is due to the UK leaving the European Union (EU), and created higher import prices and inflation. Also they are reliant on natural gas and the war in Ukraine is not helping their costs.
Market Wrap Mortgage Bonds ended down 2 to a price of 100.06 (Price Down Yield Up) 10 year treasury down 10 bp to 3.729%
12:04 PM Mortgage Bonds are up 8 BP to a price of 100.16 (Price Up Yield Down) the 10 year treasury is down 10 bp to 3.721%.
Historical information
The 10 year treasury is a good way to track mortgage rates. Recent high for the 10 year was 4.335% on 10/21/22. This yield hit a low of 0.55% on 8/07/2020. Thursday 4/06/23 the 10 year hit a recent low of 3.266%. Recent Friday closings 4/07/23 3.413% 4/14/23 3.515% 4/21/23 3.572% 4/28/23 3.428% 5/05/23 3.435% 5/12/23 3.463% 5/19/23 3.699% 5/26/23 3.810% 6/02/2023 3.695% 6/09/23 3.751% 6/16/23 3.8222%
Week of June 12 - 16, 2023 in Review
Following its string of aggressive rate hikes, the Fed left their benchmark Fed Funds Rate unchanged at their latest meeting. Plus, there were more signs of declining inflation and rising unemployment claims. Here are last week's headlines:
-Fed Skips Hike to Fed Funds Rate
-Annual Consumer Inflation Hits 2-Year Low
-Another Big Decline in Annual Wholesale Inflation
-Job Search Challenges Remain
Fed Skips Hike to Fed Funds Rate
After ten rate hikes since March of last year, the Fed left their benchmark Federal Funds Rate unchanged at a range of 5% to 5.25% at their meeting last Wednesday. The Fed Funds Rate is the interest rate for overnight borrowing for banks and it is not the same as mortgage rates. When the Fed hikes the Fed Funds Rate, they are trying to slow the economy and curb inflation.
What's the bottom line? The Fed kept the Fed Funds Rate unchanged to give themselves more time to assess incoming data. In his press conference following the meeting, Fed Chair Jerome Powell stressed that the Fed is "strongly committed" to returning inflation to their 2% target as measured by the Core Personal Consumption Expenditures Index.
Powell also noted that "nearly all Committee participants view it as likely that some further rate increases will be appropriate this year to bring inflation down to 2 percent over time." Upcoming labor and inflation data will be key factors in whether the Fed chooses to hike the Fed Funds Rate at its next meeting on July 25-26.
Annual Consumer Inflation Hits 2-Year Low
Consumer inflation rose 0.1% in May per the Consumer Price Index (CPI), with this headline reading coming in just below estimates. On an annual basis, CPI fell sharply from 4.9% in April to 4% last month, reaching its lowest level since April 2021. Core CPI, which strips out volatile food and energy prices, increased 0.4% while the annual reading declined from 5.5% to 5.3%.
Stubbornly high costs for shelter and used cars were key contributors to inflation last month, with shelter in particular accounting for over 60% of the total increase in Core CPI per the Bureau of Labor Statistics.
However, shelter costs have been falling in more real-time data. For example, Apartment List's latest Rent Report showed that year-over-year rent growth decelerated to just 0.9% in May, the lowest level since March 2021. These declines are not fully reflected in the CPI report yet but should add more downside pressure to inflation once they are.
What's the bottom line? Inflation has declined sharply from the 9.1% peak seen last June and is now less than half that amount at 4% on the headline reading. While inflation is still elevated, signs of easing inflation are welcome. Declining inflation not only signifies lower costs for some goods and services, but lower inflation also typically helps both Mortgage Bonds and mortgage rates improve over time.
Another Big Decline in Annual Wholesale Inflation
The Producer Price Index (PPI), which measures inflation on the wholesale level, decreased by 0.3% in May, coming in below expectations. On an annual basis, PPI saw a sharp decline from 2.3% to 1.1%, which is the lowest level since December 2020. Core PPI, which also strips out volatile food and energy prices, rose by 0.2% with the year-over-year reading dropping from 3.2% to 2.8%.
What's the bottom line? Annual wholesale inflation readings have also made significant improvement as they continue to move lower in the right direction. At its peak last March, PPI was at 11.7% year-over-year and it is now at 1.1%, which is a decline of 10.6%!
Job Search Challenges Remain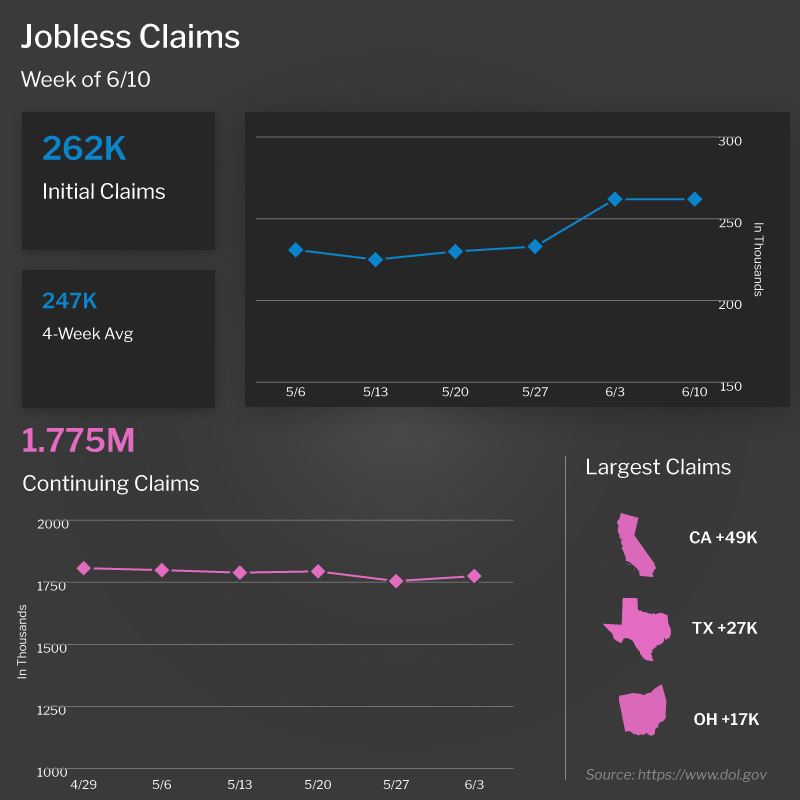 Initial Jobless Claims remained elevated in the latest week, as 262,000 people filed for unemployment benefits for the first time. This matched the number of filers reported in the previous week after that data was revised slightly higher. The number of people still receiving benefits after their initial claim is filed also remained elevated with 1.775 million Continuing Claims reported.
What's the bottom line? There is a clear upward trend in unemployment claims, with Initial Claims remaining above 200,000 each week since February and the latest reading the highest seen since November 2021. The 4-week average of Initial Claims, which smooths out some of the weekly fluctuation, also rose to its highest level since last August at 247,000.
Continuing Claims are also nearly 500,000 higher than the low point of 1.289 million filers seen last September, reflecting the challenges many people are having as they search for new employment.
With the Fed focused on employment data, this was an important real-time report showing that the labor market is weakening. And while Retail Sales rose unexpectedly last month, it will be important to see if rising layoffs will limit consumer spending this summer.
Family Hack of the Week
Summer is in full swing and, unfortunately, so are vacation rental scammers. If you're planning a getaway this season, the Federal Trade Commission (FTC) has shared these tips to help you spot a fake vacation rental ad.
Some scammers make up listings for properties that aren't for rent or don't exist. Ask for a copy of the contract before sending a deposit, so you can confirm the property's address is valid. Also, if the property is in a resort, the FTC suggests calling the front desk and confirming the property's location and other details in the contract.
Another trick scammers use is to remove the owner's contact information from real rental listings and post the listing on a different site with their own contact details. Search for the address and see if the listing appears on multiple sites but with differing information, which is a telltale sign that something might be amiss.
Below-market rents can also be a red flag, even for "last minute" deals. Being pressured to decide is another signal that you should walk away and keep looking for a place to enjoy your holiday.
What to Look for This Week
Housing reports will dominate this week's calendar, starting Monday with an update on builder confidence this month from the National Association of Home Builders. May's Housing Starts and Building Permits follow on Tuesday, while Existing Home Sales releases on Thursday.
The latest Jobless Claims will also be reported as usual on Thursday.
Technical Picture
Mortgage Bonds were able to close above support at the 25-day Moving Average last Friday. The 10-year remains in a very wide range between support at 3.65% and overhead resistance at 3.85%.