Thursday 5/18/2023
10:19 AM : Existing Home Sales, which tracks closings on Existing Homes, decreased by 3.4% in April at a 4.28 Million unit annualized pace, which was just below the 4.3 Million estimate. Supply was up 1.0% from a year ago and the median existing-home price was $388.800 in April, a 1.7% decline from a year ago.
9:30 AM : Stocks have started the day lower. The Dow is -77.02 at 33,343.75 and the S&P 500 is -2.29 at 4,156.48. Mortgage Bonds are -16bp at 100.25.
8:46 AM : Initial Jobless Claims, which measures individuals filing for unemployment benefits for the first time, was reported at 242,000 claims for last week. This represents a decrease of 22,000 from the previous report of 264,000 claims, and was below expectations of 254,000. Continuing Claims decreased by 8,000 to 1.799 Million claims, which was lower than the 1.818 Million estimate.
Wednesday 5/17/2023
9:19 AM ET 10 Year -1 bp to 3.526%
8:47 AM ET : The Mortgage Bankers Association released their Mortgage Application Data for the week ending 5/12, showing that overall application volume decreased by 5.7%. Applications to Purchase a home were down 4.8% for the week and down 26% year over year. Refinances decreased by 8% from the previous week and were 43% lower than one year ago.
8:47 AM ET: Housing Starts for April were reported at a 1.401 Million annual unit pace, which is up 30,000 from last month's revised report of 1.371 Million. Housing Permits, which are a good indicator of future starts, decreased to 1.416 Million units. This is down 231,000 from last month's figure of 1.437 Million.
Tuesday 5/16/2023
10 year treasury closed at 3.536%
11:31 AM ET 10 year treasury +6 to 3.5580%
10:28 AM ET : The NAHB Housing Market Index increased by 5 points from last month's revised figure of 45 to 50 in may. Current Sales increased by 5 points to 56, Sales Expectations increased by 7 points to 57, and Buyer Traffic increased by 2 points to 33.
9:39 AM ET: Stocks have started the day lower. The Dow is -138.87 at 33,209.73 and the S&P 500 is -9.55 at 4,126.73. Mortgage Bonds are -11bp at 100.42.
8:37 AM ET : Retail Sales were 0.4% higher in April, which was worse than the expected 0.8% increase. Last month's figure was revised higher from -1.0% to -0.7%. The Control Group, which strips out autos, gas and building materials, increased by 0.4%, which was in line with expectations. The Control Group's prior figure was revised higher from -0.8% to -0.5%
Monday 5/15/2023
Close 10 year treasuy 3.498%
2:18 PM ET 10 Year treasury +4 bp to 3.5040%
12:32 PM ET: At mid-day stocks are mixed. The Dow is -15.28 at 33,285.34 and the S&P 500 is +3.33 at 4,127.41. Mortgage Bonds are -11bp at 100.50.
9:30 AM ET: Stocks have started the day higher. The Dow is +25.88 at 33,326.50 and the S&P 500 is +4.40 at 4,128.48. Mortgage Bonds are -12bp at 100.48.
Historical information
The 10 year treasury is a good way to track mortgage rates. Recent high for the 10 year was 4.335% on 10/21/22. This yield hit a low of 0.55% on 8/07/2020. Thursday 4/06/23 the 10 year hit a recent low of 3.266%. Recent Friday closings 4/07/23 3.413% 4/14/23 3.515% 4/21/23 3.572% 4/28/23 3.428% 5/05/23 3.435% 5/12/23 3.463%
Week of May 8, 2023 in Review
Inflation continues to trend lower. Jobless Claims continue to trend higher. Here are last week's highlights:
-Annual consumer and producer inflation continue lower
-Jobless Claims continue higher
-Small Business Optimism Hits 10-Year Low
CPI Continues Downward Trend
Consumer inflation rose 0.4% in April per the Consumer Price Index (CPI), with this headline reading coming in-line with estimates. On an annual basis, CPI fell from 5% in March to 4.9% last month. Core CPI, which strips out volatile food and energy prices, increased 0.4% while the annual reading fell from 5.6% to 5.5%.
In addition, the shelter index increased 8.1% over the last year, accounting for 43.2% of the total increase in all items less food and energy per the Bureau of Labor Statistics. However, shelter costs have been declining in more real-time data. For example, Apartment List's latest Rent Report showed that year-over-year rent growth decelerated to 1.7% in April, the lowest level since March 2021. Once these moderating shelter costs are reflected in the CPI data, they will add additional downside pressure to inflation.
What's the bottom line? While annual inflation remains elevated at 4.9%, it has declined sharply from the 9.1% peak seen last June. Lower inflation helps both Mortgage Bonds and mortgage rates improve, so these signs of easing inflation are welcome.
PPI Continues Downward Trend
The Producer Price Index (PPI), which measures inflation on the wholesale level, rose 0.2% in April, coming in below expectations of 0.3%. On an annual basis, PPI fell from 2.7% to 2.3%. Core PPI, which strips out volatile food and energy prices, also rose 0.2% with the year-over-year reading dropping from 3.4% to 3.2%.
What's the bottom line? Annual wholesale inflation readings have made significant improvement as they continue to move lower in the right direction. At its peak last March, PPI was at 11.7% year-over-year and it is now at 2.7%, which is a decline of 9%!
Jobless Claims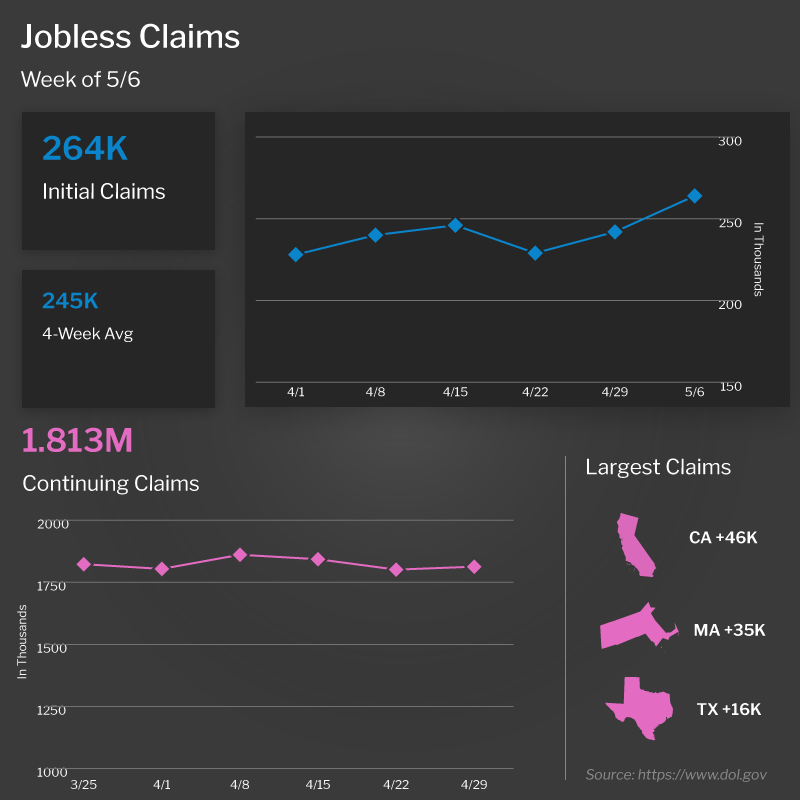 Initial Jobless Claims rose by 22,000 in the latest week, as 264,000 people filed for unemployment benefits for the first time. This is the highest Initial Jobless Claims print since October 2021. Since October 2022, Initial Jobless Claims have risen by 84,000. While not in a straight line, the trend is higher overall.
Continuing Claims rose by 12,000 to 1,813,000. This number measures people who continue to receive unemployment benefits after their initial claim is filed. Continuing Claims have been rising substantially and remain elevated.
Small Business Optimism Hits 10-Year Low
The National Federation of Independent Business (NFIB) Small Business Optimism Index weakened to 89 in April. This is the lowest level in more than ten years and marked the sixteenth straight month the index has come in below the 49-year average of 98. Among the key takeaways, 24% of small business owners reported that labor quality was their top problem, with inflation a close second at 23%.
What's the bottom line? Overall, small business owners are "cynical about future economic conditions," per NFIB's chief economist Bill Dunkelberg. The report showed that compensation plans and higher selling prices moderated while the earnings outlook, capital spending plans, and those expecting higher sales all declined. In addition, those expecting a better economy fell to nearly the lowest level on record. This data in totality points to a slowing economy and a recession.
Family Hack of the Week
This week marks National Chocolate Chip Day on May 15. Celebrate the occasion with this easy and delicious Chocolate Chip Blondie recipe courtesy of Taste of Home.
Preheat oven to 350 degrees Fahrenheit. Grease a 13x9-inch baking pan.
In a large bowl, combine 1 1/2 cups packed brown sugar, 1/2 cup butter (melted), 2 large eggs (lightly beaten), and 1 teaspoon pure vanilla extract until just blended. In a separate bowl, combine 1 1/2 cups all-purpose flour, 1/2 teaspoon baking powder, and 1/2 teaspoon salt.
Add flour mixture to brown sugar mixture and stir to combine. Stir in 1 cup of semisweet or bittersweet chocolate chips.
Spread batter into prepared baking dish and bake until a toothpick inserted comes out clean, approximately 18 to 20 minutes. Cool on a wire rack. Cut into bars and enjoy with a cup of coffee or tea.
What to Look for This Week
Crucial housing reports are ahead, starting Tuesday with builder confidence for this month from the National Association of Home Builders. April's Housing Starts and Building Permits will be reported on Wednesday while Existing Home Sales follows on Thursday.
In other news, May's manufacturing data for the New York and Philadelphia regions will be released on Monday and Thursday, respectively. Look for April's Retail Sales on Tuesday while the latest Jobless Claims will be reported as usual on Thursday.
Technical Picture
Mortgage Bonds ended the week by breaking beneath the quad level of support and are battling their 50-day moving average.
The 10-year Treasury has broken above its ceiling at 3.43% and is battling its 25-day moving average. If this level fails to keep a lid on yields, we may see a retesting of the 50-day moving average.
What's the bottom line? Jobless Claims can be volatile from week to week, but they continue to trend higher. The labor market has been extremely tight for quite some time. However, it's been showing signs of weakening as of late.
For more information contact the John Marbury Group! john@colonybank.com
John Marbury - 205-266-5669 john.marbury@colonybank.com NMLS# 740833
Donna Johnson 205-948-7933 donna.johnson@colonybank.com NMLS# 740828
For updates, mortgage calculators and online application go to: https://www.johnmarbury.com/

NMLS # 408873