The ADP (Automatic Data Processing) National Employment Report is a monthly report that provides an estimate of the number of jobs added or lost in the U.S. private sector, excluding farming and government. The report is based on data from Froom ADP's payroll processing services, which cover approximately 26 million U.S. Workers. The ADP report is often used by economists, investors, and policymakers as an early indicator of trends in the labor market, ahead of the more comprehensive and closely-watched monthly employment report from the U.S. Bureau of Labor Statistics. The ADP report is released on the first Wednesday of each month, and is closely watched by financial markets for signs of strength or weakness in the labor market.
6/01/2023
ADP:Private employers added 278,000 jobs in May
Job growth is strong while pay growth continues to slow. But gains in private employment were fragmented last month, with leisure and hospitality, natural resources, and construction taking the lead. Manufacturing and finance lost jobs.
This is the second month we've seen a full percentage point decline in pay growth for job changers. Pay growth is slowing substantially, and wage-driven inflation may be less of a concern for the economy despite robust hiring. Nela Richardson Chief Economist ADP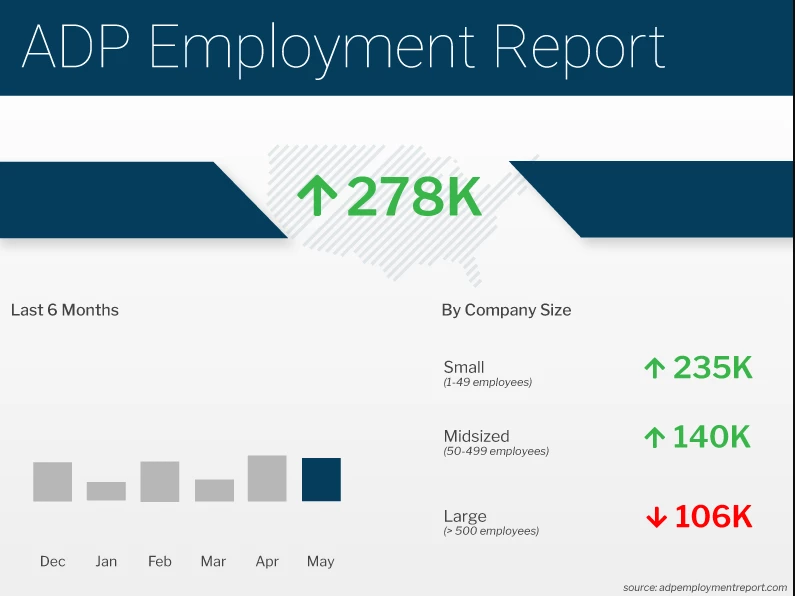 Reaction 8:51 AM ET Mortgage Bond prices are up 8 BP to a price of 99.94 and the 10 year is down 2 bp to 3.616%
5/30/2023 the market is expecting 170,000 jobs created last month
Last Month
5/03/2023
8:25 AM : The ADP Employment Report showed that there was an increase of 296,000 jobs created in the private sector in April, which was greater than expectations of 148,000.
ADP released their employment report, showing that there were 296,000 job creations in the month of April, which was almost twice as strong as the 150,000 expected. Looking at the sectors, Leisure and Hospitality led the gains once again, adding 154,000 jobs. As we mentioned previously, those gains may be coming to an end soon – In April of 2019, there were 16.2M employees in the sector, and with today's report, there are now 16.25M…meaning we have eclipsed where we were in April pre-covid. There is likely not much more in the way of job gains from the sector that has been adding the most job creations each month. ADP also reported that annual pay for job stayers increased 6.7% year over year, down from 6.9% in the previous report. Job changers saw an average increase of 13.2%, down from 14.2%. While these figures are still high, they have been moderating and showing lower wage pressured inflation, which the Bond market liked. Our good friend, Peter Boockvar, explained this morning that there has been some serious volatility in the four ADP reports seen this year, ever since they changed their methodology, which may be why the market is not respecting the headline job creations figure within the report. Smoothing this out, we have seen year to date monthly job gain of 205,000 vs 306,000 in 2022, an obvious slowdown notwithstanding the April print. The big BLS Jobs Report, which will get more attention, is on Friday
4/05/2023
8:15 AM 145,000 new jobs were created below the 200,000 jobs created last month
For more information:
John Marbury Group email: john@colonybank.com
John Marbury - 205-266-5669 john.marbury@colonybank.cm NMLS# 740833
Donna Johnson 205-948-7933 donna.johnson@colonybank.com NMLS#740828
For updates, mortgage calculators and online application go to: https://www.johnmarbury.com/
NMLS#408873